Lil Dance Divas Dance Studio
Welcome to my new home!! I had a few problems with nbci.com, so I moved. This is the home for these websites: Whose Line, Golden Girls, Jo Gibb, and Jellicle Dance. I hope to have more sites here! All webrings and links to diffrent subjects will be placed on that particular website. Well, enjoy and if you have any questons, e-mail me at lildancediva05@yahoo.com!
Love ya,
Lil Dance Diva
These site was last updated:
July 13, 2001
---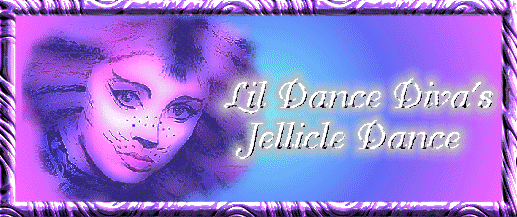 Here's The Jo Gibb Fan Site! Exculsive pics and never before seen info on this rising west end star! *Updated**
---

Here's the Golden Girls Site. An Estelle Getty's Fan Club, message board, cheesecake resipes are all found here.
((Coming Soon))

---

Here's my Whose Line site. It's the home of the Wayne Brady Fan Club and the Bald Guys Union Club for Colin to put an end to all the bald guy jokes out there! **Updated**
---