COLIN MOCHIRE
Star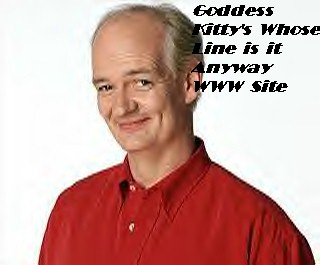 One of the busiest actors in Canada, Colin Mochrie began his career on the stage. An alumnus of Toronto's famous Second City, he spent a great part of his early career in improvisational theater, performing in four productions and later directing three seasons with The National Touring Company. He later went on to star in such popular and diverse stage productions as She Stoops to Conquer and The Brady Bunch. This fall, Mochrie continues his 11-year association with the long-running British improvisational comedy series, Whose Line Is It Anyway?, which earned a CableACE and British Television Award for Best Comedy Program. Concurrently, he is writing and starring in the Canadian comedy series Black Fly. He has been featured in numerous other Canadian and British television series and telefilms including John Woo's Once a Thief; Love, Sex and Other Natural Disasters; and The Outer Limits.
In addition to his work in television and theater, Mochrie has been featured in the films Numbers, starring John Travolta, The Real Blonde, and January Man. Next spring, he will star in the independent film Foolish Heart.
Mochrie has had enduring success as a voiceover artist, lending his talent to several popular animated series including Seven Little Monsters, George and Martha, and acting as a national commercial spokesman for such companies as IKEA and Tennant's Velvet Ale.
---
BACK